My good friend Gwyneth Doland returns with a rather unique tamale recipe you won't find in many cookbooks.  However, it's in her book, Tantalizing Tamales (see below to order it).
Baby Banana Tamales with Coconut and Brown Sugar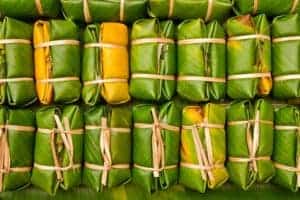 I just happened to have a bunch of baby bananas sitting on the counter one day when inspiration struck and now these are my absolute favorite tamales. The fun part is watching your guest's faces when they dig into the tamale and find a whole banana inside. Wrapping the tamales in banana leaves gives more flavor, but use corn husks if that's all you have.
1/2 recipe Coconut Masa (recipe follows)
1/2 cup unsweetened shredded coconut
1 teaspoon vanilla
1/3 cup brown sugar
12 baby bananas, peeled
Vanilla ice cream (optional)
Dulce de leche
At least 12 (6-inch by 8-inch) pieces of banana leaf, plus more for tying
Add the masa to a large bowl and work the raisins, chestnut puree and nutmeg into the masa.
To assemble the tamales, spread about 1/3 cup filling in the middle of a softened piece of banana leaf, press a baby banana into the masa then fold and tie it. Repeat for the remaining tamales. Steam the tamales for 1 hour and serve hot with vanilla ice cream and Dulce de leche.
Yield: About 12 tamales
Coconut Masa
1 1/3 pounds freshly ground masa for tamales or 2 cups masa harina
2/3 cup lard or unsalted butter, at room temperature
1 teaspoon salt
1/4 cup brown sugar
1 teaspoon vanilla
1 (13-ounce) can coconut milk, plus enough water to make 2 cups
If you're using masa harina, pour it into a bowl and add 1 1/2 cups warm water. Work the mixture into a dough with your hands and then set it aside to rest for about 15 minutes.
Add the lard or butter to the workbowl of a standing mixer fixed with the whisk attachment (or use a regular hand mixer in a large bowl) and beat it together with the salt until light and fluffy.
If you're using a standing mixer, switch to the paddle attachment. While beating, add the reconstituted (or freshly ground) masa by handfuls into the workbowl. Add the brown sugar, vanilla, coconut milk and water and beat until combined. Taste the mixture and add salt if necessary.
Continue beating until the masa is light and fluffy, 15 or 20 minutes. The masa is ready when a grape-sized ball of dough floats in a glass of cold water. If the dough sinks continue beating 5 minutes longer, then test it again.
Yield: Enough for about 24 small tamales
Click on the image to order the book.