Learn about the origins of one of the tastiest local cuisines in the country: the one that originated in Nuevo Leon, Mexico. It is world famous for its machaca, cabrito (goat meat), glorias and other sweet and savory dishes which can conquer even the most resilient palates.
By Laura B. de Caraza Campos
Like other cuisines from northern Mexico, neoleonese food cannot escape the circumstances that brought it to life. The first inhabitants of the region were hunters and gatherers that crossed vast lands in search of food, mainly fruits, roots and animals. It was a culture that imbedded its lifestyle with the realm of its rituals. The hunt for venison was a reason for celebration, and a frugal diet was a precondition for survival. There is no concrete proof, but this might be the origin of the practice of drying produce such as meat.
The colonizers learnt from this experience: for some time they became hunters and gatherers themselves. When these Spanish pioneers arrived, they did not encounter the imaginary cities with wholesome banquets and surprises that Moctezuma offered his "guests"; there was no infrastructure, kitchens or dishes available to them. Neither could they hear cooks coming and going.
It could be said that in the origins of northern cuisine –we obviously include the one originated in Nuevo León–, the male cook plays an important role either in the heated expeditions or in the establishment of villages and cities. Women held an increasingly important role in a long path in which men went through long periods without any female company.
As such, meat and other produce give birth to dishes in which the latter, along with wheat flour and cheese, form a protein trinity that is vital to survive the hardships of heat, hard labor and solitude.
We should track the steps of some migrant minorities to discover the gastronomic influences from which cabrito (goat meat) and los turcos, two exemplars of neoleonese cuisine, sprouted. Some enigmas surely have an answer that might even be well known by many. In fact, in the raising of beef cattle we could find not only the explanation of meat being an essential ingredient, but also the tradition of men being in front of the grill during parties and soirees. During these evenings, men skillfully
prepare the meat
and gladly serve it to women, who proudly claim to have a great cook by their side.
Have you indulged in this cuisine? Post a comment!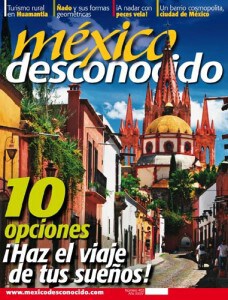 This blog post is brought to you by Mexico Desconocido, "Guidebooks of the Unknown Mexico" – Over 33 years discovering Mexico's best-kept secrets. These Mexican travel guidebooks have a wide variety of titles that delve into specific topics related to Mexico's natural and cultural wonders. Because one of their greatest features is versatility, the guides are innovative and attractive, offering content that adapts to the needs of tourism promoters and service providers in different states throughout the country of Mexico.