Background: Pre-Hispanic origin, prepared with cacahuazintle corn, pork meat, chicken and/or shrimp. Serves with vegetables, or you can make an all vegetarian version by excluding protein.
Red Pozole: Is typical of Sinaloa and Jalisco, usually prepared with chile guajillo salsa.
White Pozole: Is more popular in Central Mexico.
Green Pozole: Originates in the state of Guerrero, where it's color comes from a tomatillo salsa. In some regions they add sardines, egg and chicharron.
The spicy combination of the ancho and guajillo chiles with the tomato, oregano, and cloves turns an ordinary chicken broth into the most flavorful broth for the hominy corn.
Pozole is really what we call a plato fuerte or main dish, when served with lots of chicken and all its trimmings. This recipe can be found on pg. 69 of Mexican Culinary Treasures.
RED POZOLE WITH CHICKEN
Pozole Rojo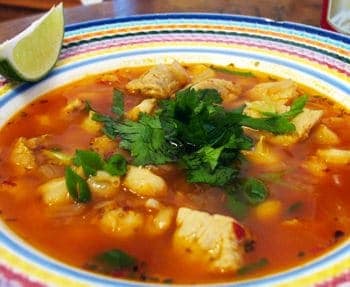 1 whole chicken breast
1 chicken backbone
2 chicken wings
3 dried Guajillo chiles
2 dried Ancho chiles
2 large tomatoes
2 cloves garlic
¼ cup chopped onion
½ tsp. oregano
½ cup tomato sauce
1 tsp. vegetable oil
4 to 5 chicken cups chicken broth
2 (900 g) cans hominy corn*, drained
Salt
6-8 corn tortillas, fried until crisp (tostadas)
Garnishes:
Chopped radishes, finely chopped lettuce, finely chopped onion, avocado slices, ground piquín chile, and quartered limes.

In 6 cups of salted boiling water, cook the chicken breast and backbone for 10 to 12 minutes, or until the chicken breast is tender. Reserving the broth, drain, remove the skin and bone, and shred the chicken breast with your fingers. Set aside, discarding the backbone and the wings.

While the chicken is cooking, stem the chiles, shake out the seeds, and wash them under running water. Soak the chiles in 1 cup of the reserved chicken broth for about 15 minutes, or until soft. Transfer the chiles with the soaking liquid to a blender and process with the tomatoes, garlic, onion and oregano until puréed.

In a soup pot, heat the oil over medium heat and fry the chile mixture for 3 to 4 minutes before adding the tomato sauce, the remaining chicken broth, hominy corn, salt to taste, and the shredded chicken. Bring the soup to a boil and simmer for 5 to 7 minutes longer to allow the flavours to mix.

Divide the pozole between soup bowls and serve hot, with the tostadas. Let everyone add their choice of garnish to their own bowl.

Maria Elena Cuervo-Lorens

is the author of

Mexican Culinary Treasures cookbook

. She takes you back to her childhood, spent around her grandmother's table on a shopping expedition with her mother to Mercado La Merced, and for a merienda (snack) of café con leche and biscochos (Mexican sweet rolls) at a bakery in downtown Mexico City. The authentic Mexican recipes she shares with us include tacos, quesadillas and enchiladas. The nouvelle cuisine of cosmopolitan Mexico City, such as cuitlacoche (huitlacohe) crepes, oysters with chipotle chile.

Pozole, a heartening soup and a favorite dish for people coming out late in the evening from the theater or a nightclub or, better, to cure a terrible hangover, originated in the state of Jalisco, where they use pork instead of chicken. Here's a little more history: